Key events
Pets at Home hammered by freight, energy costs
Pets at Home, Britain's largest pet supplies chain, is also struggling amid rising costs, and its shares fell 4.8% after it posted lower first-half profits.
The company has been hammered by a surge in freight and energy costs. Underlying profit before tax fell 9.3% to £59.2m in the six months to 13 October.
Chief executive Lyssa McGowan said:
We are conscious of the macro-economic backdrop and continue to manage the business proactively. The inflationary environment creates pressures for both our customers and the business. We are conscious of the challenges faced by many consumers, and continue to prioritise making pet care as convenient and affordable as possible. We will never let price be a reason not to shop with us.
More people bought pets during the pandemic when they spent more time at home and the pet boom has continued despite the cost of living crisis, although demand for more expensive accessories appears to be fading.
Pets at Home stuck to full-year guidance of an underlying profit of around £131m. It has 457 stores, many of which also have vet practices and grooming salons.
Halfords targets retirees in recruitment drive for 1,000 roles
Joe Middleton
Halfords has launched a drive to fill 1,000 technician roles over the next 12 months by targeting more retired and female recruits, as the UK's tight labour market pushes employers to think up new hiring strategies.
Announcing a halving of interim profits as customers cut discretionary spending amid the cost of living crisis, the motoring and cycling retailer warned that its full-year results will be at the lower end of expectations. Its shares fell more than 6% on the news.
However, it said inflationary pressures had also driven membership of its motoring loyalty club from drivers keen to cover the soaring cost of running a car. Its chief executive, Graham Stapleton, said: "To help meet that demand, we are today launching a recruitment drive to fill 1,000 new automotive technician roles over the next 12 months. In particular, we are hoping to attract retirees back into the workforce, as well as increasing the number of women in technician roles."
The FTSE 100 index has advanced 41 points, or 0.56%, to 7,494, while other major European indices are in the red. Germany's Dax has lost 0.2%, France's CAC is flat and Italy's FTSE MiB has edged 0.2% lower.
The pound is little changed against the dollar and the euro, trading at $1.1888 and €1.1528.
Crude oil prices have risen almost 1% with Brent, the global benchmark, at $89.19 a barrel.
Eurozone downturn eases as inflation cools
Business activity declined across the eurozone for a fifth month running in November but at a slower pace, according to flash PMI data from S&P Global.
The headline index rose to 47.8 from 47.3 in October, inching closer to the 50 mark that separates contraction from expansion.
Although the rate of decline remained the second strongest since 2013, excluding Covid-19 lockdown months, the intensity of the downturn moderated in response to a reduced rate of loss of new business, fewer supply constraints and a pick-up in business confidence about the year ahead.

Business sentiment nevertheless remained gloomy by historical standards, and demand continued to fall at a steep rate, leading to a pull-back in employment growth during the month.

One upside of the weaker demand picture and alleviation of supply constraints was a cooling of price pressures, most notably in the manufacturing sector. Firms' costs rose at the slowest rate for 14 months, in turn allowing selling price inflation to moderate, albeit with rates of inflation remaining elevated.
Credit Suisse forecasts another loss as it embarks on overhaul
Credit Suisse has forecast a pre-tax loss of up to Sfr1.5bn (£1.3bn) in the fourth quarter, citing a "substantial" slowdown across the industry.
A month ago, the embattled lender unveiled sweeping plans to cut 9,000 jobs and to raise billions of pounds from investors in a Saudi-led funding round, following a series of scandals and a £3.5bn loss in the third quarter. Its new boss, Ulrich Körner, has been tasked with scaling back the investment bank and slashing costs, with plans to spin it off to focus on wealth management.
The Swiss bank said its wealth management division and investment bank were likely to make a loss between October and December. Overall outflows were 6% of assets under management at the end of the third quarter. The Zurich-based bank said:
Credit Suisse began experiencing deposit and net asset outflows in the first two weeks of October 2022 at levels that substantially exceeded the rates incurred in the third quarter of 2022.

In wealth management, these outflows have reduced substantially from the elevated levels of the first two weeks of October although they have not yet reversed.
And returning to the potential sale of Manchester United, which has been welcomed by fans, Victoria Scholar, head of investment at interactive investor, says:
Manchester United is trading higher by almost 10% this morning after the Glazer family announced plans to potentially sell the club a day after Cristiano Ronaldo's departure, which would bring their 17-year ownership to an end.

Investors are cheering the news amid hopes that this could be the beginning of a new era for the club after a disappointing performance over the last few years. The expectation is that there could be a number of potential deep pocketed bidders including Sir Jim Ratcliffe who expressed an interest in buying Man U in August. Although the club was recently valued at £3.75bn, the club has the potential to sell for much more than that.
The shares are trading higher by more than 26% so far this year.
Shadow home secretary calls on government to 'get its act together' on rail dispute
More on the rail strikes.
Shadow home secretary Yvette Cooper said people have a right to campaign for a fair pay deal but that ultimately a deal is needed. She told BBC Radio 4's Today programme:
We recognise people have got a right to do everything they can to campaign for a fair pay deal, and they will continue to do so.

And people have a right to withdraw their labour and to strike as part of that, and we'll always support people's right to be able to do that, but ultimately we need a deal in place, and that is what we've been calling for.
She said she wants the government to "get its act together on this".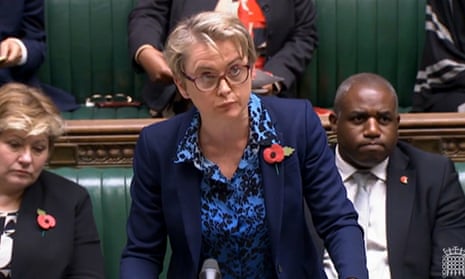 French business activity declines for first time since early 2021
Business activity in the French private sector shrank for the first time since February 2021, the PMIs showed. The headline flash France PMI composite output index fell below the 50.0 threshold in November to 48.8, from 50.2 in October.
Manufacturing production volumes continued to fall during November, for the sixth month in a row, although a fresh drop in service sector activity was the main factor behind the overall contraction.
German private sector contraction eases in November
Germany's private sector activity continued to decline in November, but there were signs of improvement, the latest flash PMIs from S&P Global indicated.
However, the rate of decline in business activity eased and firms were less pessimistic about the year-ahead outlook. Demand continued to come under pressure from strong inflation, though even on the price front there were some encouraging signs as firms reported the slowest increase in costs for 1 1/2 years and a weaker rise in prices charged for goods and services. Despite falling workplace activity, labour market conditions remained relatively robust.
Rail strikes latest: Ministers to hold talks with union chiefs this week
Ministers will hold talks with rail union chiefs this week to urge them to call off strikes aimed at causing "maximum disruption" over Christmas.
The RMT union announced on Tuesday that thousands of its members working for Network Rail and 14 train operating companies will strike on 13-14 and 16-17 December, causing disruption over six consecutive days in the run-up to Christmas. There will be a further two strikes on 3-4 and 6-7 January.
Work and pensions secretary Mel Stride said on TalkTV this morning:
What we need is we need more talking from the unions with the employers and less announcements of strikes.
He said the consequences of the strikes announced by the RMT union in December and January would be "quite serious", disrupting "medical appointments, for example, as well as "family reunions" over the festive period.
The timing of these strikes are designed to create maximum disruption across the Christmas period.

The Secretary of State is actually meeting the rail union leaders later this week, so there is that dialogue occurring.

The essential discussions have to occur between the rail operating companies, Network Rail and the unions, and they really should be engaging more on that and working things out between them more vigorously, in my view, than simply rushing off and going into strike action.
Announcing the strikes on Tuesday, the RMT's general secretary, Mick Lynch, said:
This latest round of strikes will show how important our members are to the running of this country and will send a clear message that we want a good deal on job security, pay and conditions for our people.

We have been reasonable, but it is impossible to find a negotiated settlement when the dead hand of government is presiding over these talks.
Introduction: Manchester United shares jump after Glazers put club up for sale
Good morning, and welcome to our rolling coverage of business, the financial markets and the world economy.
The Glazer family are looking to sell Manchester United after owning it for 17 years, triggering a 27% jump in the share price to $16.6 in after hours trading on Nasdaq.
The Glazers announced last night that they were "commencing a process to explore strategic alternatives" for the Premier League club, on the same day it was confirmed that Cristiano Ronaldo had left Old Trafford by mutual agreement.
A statement from United revealed plans to identify new investment that could lead to a potential sale. The club said the process led by their American owners will consider a number of options "including new investment into the club, a sale, or other transactions involving the company". The Raine Group, which oversaw the sale of Chelsea earlier this year, has been appointed as the exclusive financial adviser.
In August, Jim Ratcliffe, the UK's richest person, expressed an interest in buying United. "If the club is for sale, Jim is definitely a potential buyer," a spokesperson for him said. Last month, though, Ratcliffe claimed he had met the Glazers and they did not wish to sell.
The club was valued at nearly $2.5bn (£2bn) on the New York stock exchange yesterday. The Glazers took control of United in a £790m deal in 2005, loading the club with £500m of debt, and later listed a minority stake, in 2012, but retained control through a dual-class share structure which gives them almost all voting rights.
The announcement that they were considering selling comes after years of protest from the fans, chanting "Love United, Hate Glazers". United has not won the Premier League since 2013 and the fans want to see more investment in the club.
David Cogan, a media executive who negotiated the sale of the Premier League's TV rights, has been talking about this on BBC Radio 4's Today programme.
The owners have said we've done our 17 years, we've taken out as much as we can, we're under constant pressure from fans and therefore what we need to do is try to find a buyer at a time when the Premier League looks like it might make more money because lots of people are buying rights and we've got the asset value to where we could get it.

And what's really driven that is the differences in value. A year ago Newcastle sold for £305m. Chelsea sold for £2.5bn plus an additional £1.75bn for reinvestment in the club, nearly £5bn. When you're Manchester United or you're Liverpool and you're the owner of those clubs, you look at those numbers and say we can easily get that, and that's a huge return on our initial investment.
He said large American hedge funds may be interested in buying the club, noting that they have been buying media rights of sports assets, for example in rugby.
It may well be that all these American hedge funds are looking at football assets believing they are undervalued even at £4bn or £5bn because the Premier League will continue to grow…

Most fans are quite happy if the money is coming in.
Roman Abramovich sold Chelsea for £4.25bn to a consortium led by the American businessman Todd Boehly in May. Newcastle United was sold by Mike Ashley for £305m last October to a consortium led by Saudi Arabia's Public Investment Fund.
Otherwise, the focus today is on the latest flash PMIs for November, closely-watched business surveys, as well as the minutes from the US Federal Reserve's last meeting when it hiked interest rates as expected by 75 basis points.
Most Asian stock markets have gained while oil and the dollar slipped, as rising Covid-19 cases in China triggered fears of fresh lockdowns that could hold back the reopening of the world's second-biggest economy.
European stocks are expected to rise at the open, after they reversed their Monday losses and closed at three-month highs on Tuesday.
The Agenda
8.15am GMT: France S&P Global PMIs flash for November

8.30am GMT: Germany PMIs flash for November

9am GMT: Eurozone PMIs flash for November

9.30am GMT: UK S&P Global/CIPS PMIs flash for November

1.30pm GMT: US Durable goods orders for October (forecast: 0.4%)

2.45pm GMT: US S&P Global PMIs flash for November

3pm GMT: US Michigan Consumer sentiment final for November (forecast: 55)

3pm GMT: Treasury committee to quiz UK chancellor Jeremy Hunt on autumn statement

7pm GMT: Bank of England chief economist Huw Pill speech on returning inflation to target

7pm GMT: US Federal Reserve minutes