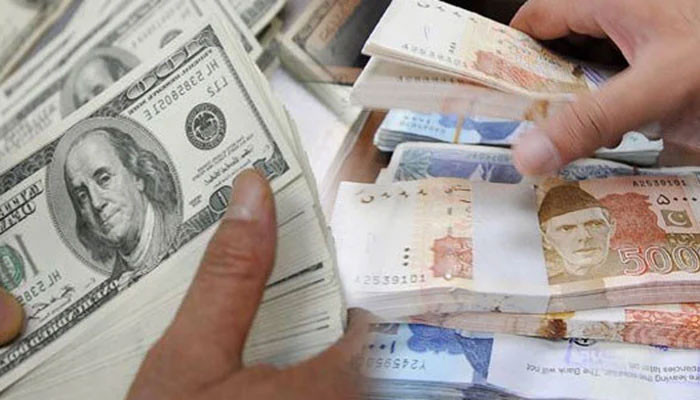 KARACHI: Foreign exchange firms have dumped an unofficial cap on the rupee's value against the dollar, an official said on Tuesday, potentially paving the way for currency exchange rate to slide sharply to match its actually value on the streets.
The Exchange Companies Association of Pakistan (ECAP) said the cap will be lifted on Wednesday to arrest "artificially high" dollar demand in the open market.
"An interim dollar cap was exceedingly negative. The rate cap didn't reduce dollar price; instead, it made it more expensive, and now the dollar is not available in the market," the ECAP said in a statement following a meeting of its members.
Malik Bostan, chairman of ECAP, said the price ceiling led to the emergence of a thriving black market.
"Customers were encouraged to buy from us and then sell in the black market. The end result was that individuals who actually need money were forced to purchase it from the illegal market."
Bostan said the price cap caused panic and tarnish reputation of exchange companies.
At this moment, I believe it is crucial to inform the entire country that there is a shortage of dollars and that we are not receiving inflows from worker remittances. In the past two days, the local unit has declined by five rupees in the kerb market.
The exchange firms have informed the central bank about their decision.
A meeting will be held with the SBP s deputy governor tomorrow morning to set modalities, Bostan said.
The US dollar was trading between Rs238.50 and Rs240.75 on Tuesday, according to ECAP's daily publication of its open-market rates.
The lack of availability of the US currency at these levels has, however, rendered the rates useless for a number of weeks.
Dealers anticipate that after the cap is lifted, the local currency will trade at 255-253 to the dollar in the open market.
Finance minister Ishaq Dar has hawkish views on the rupee-dollar parity and believes in having a strong rupee value versus the US currency.
When Dar took the minister post, the rupee had strengthened. But a black market for dollars has sprung up in Pakistan after the central bank restricted access to foreign currency to preserve dwindling reserves.
Remittances from Pakistanis working abroad dropped 19 percent year-on-year to $2.0 billion in December. This is due to the growing usage of hundi and hawala as methods of sending money home. This led to a significant 2030 rupee gap between official and unofficial market rates.
We urge individuals to sell dollars at the current rate … increase in the supply will check dollar rates, Bostan said.